Dumb Dumb is a song recorded by Red Velvet. It is the first track and is also used as the title track in their first studio album The Red. The song has been described as an uptempo dance track with an infectious hook and groovy beat. It's about a girl's cute feelings becoming awkward in front of her crush.
The music video contains colorful scenes with the members wearing brightly outfits dancing to the choreography, also features scenes which the members are dressed up as dolls and produced in a factory.
Official Music VideoEdit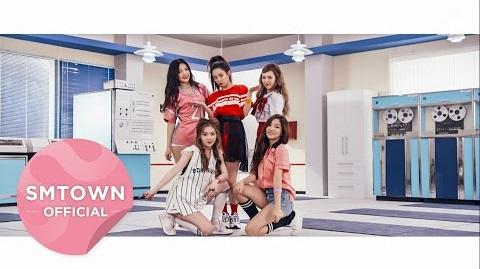 The lyrics are described to be about how a girl may become awkward in front of someone she likes that she behaves like a mannequin.
Irene
Seulgi
Wendy
Joy
Yeri
Hangul
Romanization
Translation

Dumb Dumb Dumb Dumb Dumb Dumb

Dumb Dumb Dumb Dumb Dumb Dumb

Dumb Dumb Dumb Dumb Dumb Dumb




너 땜에 하루 종일 고민하지만

neo ttaeme haru jongil gominhajiman

I'm thinking hard all day because of you

널 어떡해야 좋을지 잘 모르겠어 난 Oh

neol eotteokhaeya joheulji jal moreugesseo nan Oh

But I still don't know what to do with you

Baby baby baby baby baby you

Baby baby baby baby baby you

Baby baby baby baby baby you

Play me play me play me play me play me

Play me play me play me play me play me

Play me play me play me play me play me




그 눈빛은 날 아찔하고 헷갈리게 해

geu nunbicheun nal ajjilhago hetgallige hae

Your eyes take my breath away and confuse me

내 이성적인 감각들을 흩어지게 해 Oh

nae iseongjeogin gamgakdeureul heuteojige hae Oh

It makes my rational senses scatter away

Baby baby baby baby baby you

Baby baby baby baby baby you

Baby baby baby baby baby you

Crazy crazy crazy crazy crazy

Crazy crazy crazy crazy crazy

Crazy crazy crazy crazy crazy




마네킹 인형처럼

maneking inhyeongcheoreom

Like a mannequin,

하나부터 열까지 다 어색하지

hanabuteo yeolkkaji da eosaekhaji

everything is so awkward

평소같이 하면 되는데

pyeongsogati hamyeon doeneunde

I should just act like I do normally

또 너만 보면 시작되는 바보 같은 춤

tto neoman bomyeon sijakdoeneun babo gateun chum

but whenever I see you, I act so stupid




눈 코 입 표정도

nun ko ip pyojeongdo

My eyes, nose, lips,

팔 다리 걸음도

pal dari georeumdo

even my face, arms, legs, my walk,

내 말을 듣지 않죠

nae mareul deutji anhjyo

they won't listen to me

Dumb Dumb Dumb Dumb –

Dumb Dumb Dumb Dumb –

Dumb Dumb Dumb Dumb –

심장의 떨림도

simjangui tteollimdo

The trembling of my heart,

날뛰는 기분도

nalttwineun gibundo

my jumping moods,

맘대로 되질 않죠

mamdaero doejil anhjyo

I can't control it

Dumb Dumb Dumb Dumb –

Dumb Dumb Dumb Dumb –

Dumb Dumb Dumb Dumb –




Dumb Dumb Dumb Dumb Dumb Dumb –

Dumb Dumb Dumb Dumb Dumb Dumb –

Dumb Dumb Dumb Dumb Dumb Dumb –




낭만적인 영화를 난 꿈꿔왔지만

nangmanjeogin yeonghwareul nan kkumkkwowattjiman

I've dreamed of a romantic movie

네 사랑은 내 손에 늘 땀을 쥐게 해 Oh

ne sarangeun nae sone neul ttameul jwige hae Oh

But your love always makes my palms sweaty

Baby baby baby baby baby

Baby baby baby baby baby

Baby baby baby baby baby

You make me crazy crazy crazy crazy hey

You make me crazy crazy crazy crazy hey

You make me crazy crazy crazy crazy hey




마네킹 인형처럼

maneking inhyeongcheoreom

Like a mannequin,

하나부터 열까지 다 어색하지

hanabuteo yeolkkaji da eosaekhaji

everything is so awkward

평소같이 하면 되는데

pyeongsogati hamyeon doeneunde

I should just act like I do normally

또 너만 보면 시작되는 바보 같은 춤

tto neoman bomyeon sijakdoeneun babo gateun chum

but whenever I see you, I act so stupid




Dumb Dumb Dumb Dumb Dumb Dumb –

Dumb Dumb Dumb Dumb Dumb Dumb –

Dumb Dumb Dumb Dumb Dumb Dumb –




You need to "Beat It"

You need to "Beat It"

You need to "Beat It"

That boy Michael Jackson "Bad"

That boy Michael Jackson "Bad"

That boy Michael Jackson "Bad"

난 너의 "Billie Jean"이 아냐

nan neoui "Billie Jean"i anya

I'm not your "Billie Jean"

Don't you "Leave Me Alone"

Don't you "Leave Me Alone"

Don't you "Leave Me Alone"

하지만 애매한 반응 난 원해 "Black Or White"

hajiman aemaehan baneung nan wonhae "Black Or White"

But you're so ambiguous, I want "Black Or White"

포기 못해 나의 "Man In The Mirror"

pogi mothae naui "Man In The Mirror"

I can't give up on you, my "Man In The Mirror"

"Why You Wanna Trip On Me"

"Why You Wanna Trip On Me"

"Why You Wanna Trip On Me"

넌 너무 짓궂지

neon neomu jisgujji

You're too harsh

Boy, you make me "Scream"

Boy, you make me "Scream"

Boy, you make me "Scream"

너에게 왜 이러지

neoege wae ireoji

Why am I like this?

하긴 너의 "Love 정말 Never Felt So Good"

hagin neoui "Love jeongmal Never Felt So good"

Well, your "Love really Never Felt So Good"

그건 아마 짜릿하다 못해 Watching the "Thriller"

geugeon ama jjarithada mothae Watching the "Thriller"

It's so electrifying that it's like watching the "Thriller"




난 너에게서 헤어날 수 없나 봐

nan neoegeseo heeonal su eopsna bwa

I can't escape from you

미워도 싫지가 않잖아

miwodo silhjiga anhjanha

I hate you but I don't

저 언니처럼 되고 싶은데

jeo eonnicheoreom doego sipeunde

I wanna be like that unni

넌 자꾸 나를 귀엽다고 하는 걸까 왜

neon jakku nareul gwiyeopdago haneun geolkka wae

But you keep calling me cute




남동생 로봇처럼

namdongsaeng robotcheoreom

Like my little brother's robot,

하나부터 열까지 다 어색하지

hanabuteo yeolkkaji da eosaekhaji

everything is so awkward

어떡하지 고장 났나 봐

eotteokhaji gojang nattna bwa

What do I do? I think I'm broken,

숨을 쉬는 방법도 다 까먹었어 나

sumeul swineun bangbeopdo da kkameogeosseo na

I forgot even how to breathe




Dumb Dumb Dumb Dumb Dumb Dumb

Dumb Dumb Dumb Dumb Dumb Dumb

Dumb Dumb Dumb Dumb Dumb Dumb




눈 코 입 표정도

nun ko ip pyojeongdo

My eyes, nose, lips,

팔 다리 걸음도

pal dari georeumdo

even my face, arms, legs, my walk,

내 말을 듣지 않죠

nae mareul deutji anhjyo

they won't listen to me

Dumb Dumb Dumb Dumb –

Dumb Dumb Dumb Dumb –

Dumb Dumb Dumb Dumb –

심장의 떨림도

simjangui tteollimdo

The trembling of my heart,

날뛰는 기분도

nalttwineun gibundo

my jumping moods,

맘대로 되질 않죠

mamdaero doejil anhjyo

I can't control it

Dumb Dumb Dumb Dumb –

Dumb Dumb Dumb Dumb –

Dumb Dumb Dumb Dumb –




Dumb Dumb Dumb Dumb Dumb Dumb –

Dumb Dumb Dumb Dumb Dumb Dumb –

Dumb Dumb Dumb Dumb Dumb Dumb –

(Baby~, do~, I must be, oh~)

(Baby~, do~, I must be, oh~)

(Baby~, do~, I must be, oh~)
| | |
| --- | --- |
| | To view the Dumb Dumb gallery, click here. |