Red Velvet (Hangul: 레드벨벳; Romanization: Re-deu Belbet) is a South-Korean girl group formed by S.M. Entertainment which debuted on August 1, 2014. The group consists of Irene, Seulgi, Wendy, Joy and Yeri.
Red Velvet is unique for having two different themes for it songs and music videos, the red, which represents the group's bright, bold and abstract side and the velvet, which represents the toned down, elegant and mature side of the group.
Red Velvet has received a total of six main music awards, including two awards for choreography; Best Dance – Female and Best Dance Performance – Female Group, as well as three new artist awards.
Red Velvet members are active as television personalities, most notably Irene and Yeri as hosts for Music Bank and Music Core, respectively, and Joy for her participation in her simulated marriage to BtoB's Yook Sungjae on the variety show We Got Married. Joy also recently made her acting debut as the lead actor for her drama "The Liar and His Lover" with actor Lee Hyunwoo in March 2017.
Pre-debut
Edit
Four of the five members of Red Velvet were previously part of S.M. Entertainment's pre-debut team, S.M. Rookies. Seulgi, the first member who joined the agency, was brought in through an audition in 2007. Irene, the next member to join the company, was cast in 2009. 2 years later, newest member Yeri was casted through the SM Global Auditions. Wendy auditioned through the SM Global Audition in Canada in 2012. Joy, the member who wasn't part of S.M. Rookies, auditioned through the SM Global Audition in Seoul in 2012.
2014: Debut, "Happiness" and "Be Natural"
Edit
Red Velvet's debut single, "Happiness", was digitally released on August 4, 2014, through various South Korean online music charts. The song made its way up to the number one spot on Genie's real-time chart, as well as top 10 of various other ones. Internationally, it debuted at No. 3 in Singapore and Taiwan, No.4 in Malaysia, No.5 in Thailand and No.9 in Hong Kong. Its music video was released on August 1, reaching 1 million views within 11 hours, and becoming the second most viewed K-pop video worldwide in August 2014. The group made their official debut stage on the music program Music Bank.
Red Velvet released their 2nd digital single "Be Natural", a remake of a S.E.S's song, on October 13. The group started their promotional activities for this new release on October 9, making their first appearance on the music program, M! Countdown. The music video for the song was released during the same day.
2015: Ice Cream Cake, new member Yeri and The Red
Edit
On March 11, 2015, S.M. Entertainment announced that the group's first album will be called Ice Cream Cake and was released on March 15. On the same day, they released a video announcing the addition of a new member, Yeri, to the group's lineup. Yeri was formerly part of S.M. Rookies with Irene, Seulgi and Wendy. "Automatic," the group's first music video featuring Yeri, was released on March 14.
On March 13, S.M. Entertainment announced that the group will be promoting their album through the program, Ice Cream TV, which will be streamed through Naver Music and will be hosted by SHINee's Minho. The members will talk about the album, share their thoughts about their upcoming 'comeback', and perform their songs live in the show. On March 15, it was announced that both "Automatic" and "Ice Cream Cake" will be promoted as double lead singles off the album. The music video for "Ice Cream Cake" was released on March 15. Ice Cream Cake topped Gaon's Weekly Album Sales Chart in its first week. It also debuted at #2 on Billboard's World Albums Chart and "Ice Cream Cake" peaked at #3 on Billboard's World Digital Songs Chart. On March 27, they won their first music show trophy on Music Bank, as well as multiple trophies from Show! Music Core and Inkigayo. They are the first girl group debuting in 2014 to garner music show awards and sweep local digital charts in South Korea. For the first half of 2015, the album would go on to become the best selling album by a girl group in South Korea on the Hanteo Chart.
In August 2015, Red Velvet held their first United States performance during the annual KCON convention and music festival in Los Angeles, California. They performed their song "Ice Cream Cake" and a cover of "STICKWITU" by the Pussycat Dolls.
On September 3, 2015, Red Velvet announced their first full-length album The Red through their official Instagram account. It was released on September 9 with a total of ten tracks, including the single "Dumb Dumb". On 8 September, 10:00P.M. KST, the agency released the music video for "Dumb Dumb". The music video reached over 1 million views within 12 hours and the group has won multiple trophies on The Show, Show Champion and M Countdown. The Red debuted at #1 on Billboard's World Albums Chart and South Korea's Gaon Album Chart.
On December 6, SM Entertainment revealed that the group, alongside label mates f(x) and BoA, will take part in the agency's special winter project, entitled "Winter Garden", by releasing a digital single, "Wish Tree" on December 18th. Red Velvet was the tenth most reblogged kpop group for 2015 according to Tumblr's Year in Review series, previously at the seventeenth spot in 2014.
2016: The Velvet, Russian Roulette
Edit
S.M. Entertainment revealed on March 2, 2016 that Red Velvet had recently finished filming the music video for a new song, aiming for a March comeback. The group was set to release their 2nd mini album, The Velvet, at midnight (KST) on March 16, 2016, along with the lead single "7월7일 (One Of These Nights)", teasing fans through the use of the official Red Velvet Instagram account, much like the promotions of their previous full length album. The official S.M YouTube channel released the music video teaser of lead single "7월7일 (One Of These Nights)" on March 14. However, just minutes before the scheduled release date of the album on digital charts and as a physical copy, along with the music video, S.M.Entertainment released an official statement that the album and music video would be delayed and released the following day, March 17. The album showcases the smooth R&B-influenced "velvet" side of the group's concept and is a direct follow-up album to The Red, which highlighted the band's bright and bold "red" persona.
A September comeback was confirmed by S.M. Entertainment in August. The first teaser was released on Red Velvet's Instagram account on September 1st. The agency confirmed that the girls will be releasing their 3rd mini album titled "Russian Roulette" and the music video is due to be released on September 7th at midnight KST. On the V Live app, Red Velvet did a comeback countdown for one hour before the music video's release. The mini album features seven tracks, including the title track "Russian Roulette".
2017: Rookie, Fandom Name, The Red Summer and Perfect Velvet
Edit
On January 20, 2017 SM Entertainment announced that Red Velvet will have a comeback in February. On January 24, the group's comeback was confirmed with the release of their fourth mini album Rookie, on February 1. The EP contains new six tracks, with the title track "Rookie" and a solo song of Wendy entitled "Last Love" (마지막 사랑). The album topped the Weekly Gaon Album Chart and also become their next album to topped the Billboard World Albums Chart.[40] Red Velvet took home their first music show win for "Rookie" on The Show on February 7, followed by wins on the Show Champion, M Countdown, Music Bank, and SBS's Inkigayo. The wins amounted to a total of 9 trophies. The album, along with their song, remained on the chart for more than 6-7 weeks after their promotion had ended. On March 31, 2017, the group released the first single for SM Station 2, titled "Would U". However, member Joy was not included due to her drama filming. Joy also officially finished filming her drama in the first week of May 2017, returning her to her group activities. She also released more than half of the OSTs for the drama.
And finally after almost 3 years of waiting, Red Velvet released their official fandom name through their official instagram account! Welcome to the fandom, ReVeluvs!
Reve in ReVeluv stands for dream in French. The story behind the name is that the fans, us, make Red Velvet's dreams come true, so in return, Red Velvet gave us their love!
On June 23, 2017, S.M. Entertainment announced that Red Velvet would be releasing a mini album in July for a summer comeback (a first for the group) and had recently finished filming the music video. At around midnight on June 30, the first set of teaser images were released through the company's official website, the group's official Instagram, and the group's promotional Twitter account, which was created the same month. Later that day, they posted another set of teasers which revealed the album title, "The Red Summer", and the full track list which includes the title track, "Red Flavor". Two of the songs were written by Swedish producer Cazzi Opeia. The album was officially released digitally on July 9 and physically on July 10.
On July 5th, SM announced that Red Velvet would be holding their first solo concert titled "Red Room". The concept of this concert is supposed to be an invitation into Red Velvet's bedroom. Their concert will be held over two days on the 19th and 20th of August at the venue Olympic Hall of Olympic Park in Seoul which holds around 8000 people. Tickets will be available for purchase on July 13th, a few days after the release of "The Red Summer".
The single "Red Flavor" had an unconventional release and was performed live by the group at an SMTOWN concert in Seoul on July 8 before the song's digital release along with its music video a day later. Hours after its release on July 9, the group had their first music show performance on Inkigayo and they also performed "You Better Know". "The Red Summer" reached number one on the Gaon Album Chart and the Billboard World Albums Chart. "Red Flavor" was such a big hit that it earned Red Velvet the title of "The Summer Queens", which was previously held by the former girl group Sistar.
Red Velvet quickly broke the record for the fastest selling kpop girl group concert when their tickets sold out only 0.81 seconds after public release. They are the second kpop group to have sold out concert tickets this fast, beaten only by labelmate Exo. The demand for their tickets was so high that the website had crashed. In light of this news, Red Velvet decided to add an extra day, on the 18th of August, to repay fans for their love and support.
On October 30, 2017, there was news that Red Velvet were preparing their third comeback of the year, just four months after their big hit Red Flavor. At midnight KST November 8th, a teaser video for "Peek-A-Boo" was uploaded on the SMTown YouTube channel. It was announced that Red Velvet would be releasing their second full-length studio album "Perfect Velvet" on November 17th. The album will feature the title track "Peak-A-Boo" along with 8 other tracks. Perfect Velvet surpassed 100,000 stock pre-orders.
On October 4th, SM had announced that Red Velvet would be having their first Japanese showcase. This was titled "Red Velvet Premium Showcase F'U'N Room Reveluv-Baby Party" and was to be held at Yebisu The Garden Hall in Tokyo on November 6. After the showcase ended, they revealed that they would be taking their "Red Room" concert to Musashino Forest Sports Plaza in Tokyo on March 28 and 29.
Red Velvet held a Peek-A-Boo showcase, which was hosted by their label mate Taeyeon (SNSD), on the 16th November. This is where they performed their new track live for the first time, before the official release. At midnight KST on November 17th, the official music video for Peek-A-Boo was released along with the album. The group had their comeback stage on KBS Music Bank the same day. They performed their title track Peek-A-Boo and B-side Look. Red Velvet took home their first win from Inkigayo on the last day of promotions, Peek-A-Boo had 2 music show wins in total.
2018: The Perfect Red Velvet, Japan Debut #Cookie Jar, Summer Magic and RBB
Edit
Red Velvet released new comeback teasers on their Instagram account on January 23rd, just 2 months after "Peek-A-Boo". This time Red Velvet were releasing their first repackaged album: "The Perfect Red Velvet". The album is a repackage of their 2nd studio album "Perfect Velvet", which was released in November. This album is set to be released on January 29th. It will include three new tracks "Bad Boy" (title track), "All Right" and "Time to Love". The album also includes instrumental versions of Bad Boy and Peek A Boo on iTunes. "Bad Boy" broke many records for the girls as it was the first of their music videos to gain the most amount of views in 24 hours (7.3 million), get 1 million likes and gain over 60 million views in a month.
It was revealed, on March 20th, that Red Velvet was on the lineup as one of the 11 South Korean artists going to North Korea to perform at an inter-Korean concert titled "Spring is Coming" in Pyongyang. This makes them the first artist from SM Ent, to perform in North Korea in 15 years. Joy was couldn't go because she was busy working on her drama "Tempted" that was still ongoing so the group went with just the four of them. On April 1, they performed "Red Flavor" and "Bad Boy" with almost no changes in choreography or lyrics in Pyongyang. The president, Kim Jong-Un, had reportedly changed his schedule around so he could watch them.
SM announced, on March 30th, that Red Velvet would finally be having their debut in Japan in early July. While they are preparing this, the girls will first have their first Japanese 2-day concert and their first Japanese tour. Red Velvet will be performing their Japanese debut songs and Japanese versions of their selected Korean hits for their tour across Japan.
On May 14th, SM announced that Red Velvet's first Japanese mini album would be titled "#Cookie Jar" and would be released on the 4th of July. "#Cookie Jar" will include 3 new Japanese songs and 3 Japanese versions of their Korean hits. This mini album will include their hits "Dumb Dumb", "Russian Roulette" and "Red Flavor" in Japanese.
SM Entertainment announced in July that Red Velvet will release their sixth Korean extended play in August. Osen reported that the members finished filming the music video for the single "Power Up" in Gyeonggi Province on July 19 and days later, SM Entertainment revealed that the EP will be released on August 6 and will be called "Summer Magic". On July 29th teaser images were released and SM Entertainment launched a game on their website to promote the mini-album. After being released on August 6th, it was on the top of all South Korean music charts. It topped their best U.S sales week, selling over 2,000 copies. It went got to No. 3 on billboard's world albums list. The song had good reception due to the song's youthful summer vibes.
On November 9, 2018, S.M. Entertainment revealed the release date for "RBB", and Yeri stated that the preparation for the mini album was longer than their other releases. The mini album was released on November 30.
2019: SAPPY
Edit
On January 5th, the MV trailer for Red Velvet's 2nd Japanese release since "#Cookie Jar" in June 2018, "SAPPY" was released. On January 6th, the music video and digital single was uploaded. Despite the lack of promotion, "SAPPY" made No. 1 on iTunes in Vietnam and No. 3 in the Philippines. The MV made it to #10 on trending on Youtube in the U.S.
About the Members
Edit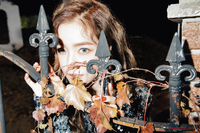 Bae Joo-hyun, was born on March 29, 1991 in Daegu, South Korea. After training in SM Entertainment from 2009 til 2014, she took the stage name of Irene and began her singing career as member of Red Velvet, given the roles of the group's leader, the lead dancer, a supporting vocalist, main rapper as well as the center, face and visual, she was also assigned to represent the color pink in the group. As well as singing, Irene also has blossoming careers in acting and television hosting. Irene is known for her introverted and quiet personality and has been considered a bland character by other K-pop idols and netizens, though she is quirky, such as making people laugh with her crazy sense of humor at times. Irene is also known for perfectly fitting the South Korean standards of beauty. Some of her nicknames are Hyun-ah, Grandma and Cabbage.
Kang Seulgi is better known as just Seulgi, she is from Ansan, South Korea and her birthday is February 10, 1994. Seulgi trained for her K-pop idol career the longest out of all the Red Velvet members, training for a total of seven years. Seulgi has strong singing and dancing skills and was appointed the lead vocalist and main dancer of Red Velvet, she also represents the colour yellow in the group. She is also a member of the girl group, Girls Next Door and the group Seulgi x SinB x Chungha x Soyeon. She is known for having a calm personality and enjoys playing the guitar and drawing in her free time. Seulgi's nicknames include Bear, Kkangseul and GomDoli.
Wendy was born as Son Seung-wan in Seoul, South Korea. Her birthday is February 21, 1994. During her early life, Wendy lived in South Korea, USA and Canada, whilst living in the latter two countries she used her westernized name of Wendy Son. She used to upload videos of her singing on YouTube, however had to delete her YouTube channel before she began training in SM Entertainment for a total of two years. Eventually she became the main vocalist of Red Velvet in 2014, she represents the color blue in the group. In spite of her privileged upbringing, Wendy has a friendly and down to earth personality and described by many as being the kindest person they've met. She has had the luck of collaborating with many big stars such as Eric Nam, Kangta, John Legend and Ricky Martin for songs. Her nickname is Olaf and Wanda.
Joy was born as Park Soo-young on September 3, 1996 in Jeju Island, South Korea. In her childhood, she performed the song "Flying Duck" by Cherry Filter, at school, which made her realize her dream to become a singer. She made a successful audition to SM Entertainment in 2012, and took the stage name of Joy, due to wanting to live up to the meaning of the name. After two years of training, Joy became a supporting vocalist and lead rapper in Red Velvet and assigned to represent the color green in the group. Joy is also an actress and made her acting debut in the 2017 drama The Liar and His Lover. By her fellow Red Velvet members, Joy was chosen as the member who has a very fragile heart and who gets emotional very easily, she is also known to be the most attention craving member in Red Velvet. If not an Idol, Joy would be a Dog trainer. Her hobbies are watching movies and singing good songs. Joy's nicknames are Doongdoongie, cute Joy and Malgeumi.
Kim Yerim, better known as Yeri, was born and raised in Seoul, South Korea. Her birthday is March 5,1999. Yeri pursued her dream of becoming a singer through auditioning to SM Entertainment in 2011, she trained four years before joining Red Velvet in March 2015, given the roles of a supporting dancer, rapper and vocalist as well as the maknae, she was assigned to represent the color purple in the group. Yeri's personality is clever, friendly, honest and mischievous, furthermore, she is well known for her savage sense of humor. Yeri enjoys singing, songwriting and composing music with her guitar. She also has written several Red Velvet songs. Yeri's English name is Katy Kim, her nicknames are Squirtle, Yeriana and Malgeumi.
Discography
Edit
Mini Albums
Edit
Digital Singles
Edit
Collaborations
Edit
Japanese
Edit
Mini Albums
Edit
Digital Singles
Edit
Television
Edit
Reality Show Edit
Year
Title
Network
Note
2017
Level Up Project!
Oksusu
KBS Joy
Joy didn't appear in this show
due to her schedule for drama The Liar and His Lover.
2018
Level Up Project! 2
Oksusu
XtvN
Level Up Project! 3
Oksusu
JTBC4
Television shows Edit
Year
Title
Channel
Members
Note
2014
Escape Crisis No.1
KBS
All (except Yeri)
Episode prior to Yeri's debut.
Hello Counselor
Hidden Singer 3
JTBC
EXO 90:2014
Mnet
Seulgi, Wendy
Guests
Weekly Idol
MBC Every 1
All (except Yeri)
Episode prior to Yeri's debut.
Star King
SBS
Seulgi, Joy
Guests
After School Club
Arirang TV
All (except Yeri)
Episode prior to Yeri's debut.
Quiz to Change the World
MBC
Irene, Wendy
Guests
Let's Go! Dream Team 2
KBS2
Irene, Seulgi, Wendy
Girl Group Bubble Suit Championship
2015
After School Club
ArirangTV
All
Guests
Hello Counselor
KBS World
Joy, Yeri
Guests, Episode 220
Off to School
JTBC
Seulgi
Yaman TV
Mnet
All
With Lovelyz
100 People, 100 Songs
JTBC
Seulgi, Wendy
Guest Contestants
We Got Married (Season 4)
MBC
Joy
Paired with BtoB's Sungjae
Weekly Idol
MBC Every 1
All
Guests, Episode 217
MBC Idol Athletics Championships
MBC
Competitors
A Song for You
KBS World
Guests, Episode 12
Running Man
SBS
Joy
Guests, Episode 268
Immortal Song 2
KBS2
Seulgi, Wendy, Joy
Guest
We Got Married (Season 4)
MBC
All
The Geeks
Irene
Vitamin
KBS2
Irene, Seulgi, Wendy, Yeri
Today's Room
Mnet
All
Guests, Episode 8, 9
2016
Two Yoo Project Sugar Man
JTBC
Irene, Seulgi, Wendy, Yeri
with Orange Caramel, Episode 13
MBC Idol Athletics Championships
MBC
All
Competitors
King of Masked Singer
Wendy
Contestant as "Space Beauty Maetel", Episode 43
Weekly Idol
MBC Every 1
All
Guests, Episode 242
Vitamin
KBS2
Irene, Seulgi, Yeri
Guests
Sketchbook
All
Hello Counsellor
Irene, Wendy
Knowing Brothers
JTBC
Seulgi, Wendy, Joy, Yeri
Duet Song Festival
MBC
Wendy
Contestant
| Year | Title | Channel | Role | Note |
| --- | --- | --- | --- | --- |
| 2016 | Descendants of the Sun | KBS2 | Themselves | Cameo appearance |
| Year | Title | Role | Note |
| --- | --- | --- | --- |
| 2015 | SMTOWN The Stage | Themselves | Biographical Film |
Music Programs
Edit
Year
Date
Channel
Title
Member(s)
2014
August 15
KBS2
Music Bank
Seulgi, Joy
2015
May 9 - November 14
MBC
Show! Music Core
Yeri
October 2
KBS2
Music Bank
Seulgi, Wendy
2015-2016
May 1 - June 24
Irene
Endorsements
Edit
Year
Title
Notes
2014
Lotte Pepero
with EXO-K
2015
Baskin Robbins
with f(x) & EXO
2015 - 2016
Black Martine Sitbon
Meters bonwe
2016
Red Cross
2016 - 2017
Toreore Chicken
The Saem
with SHINee
2017
Lineage Red Knights
The Saem
Korean Red Cross Youth
Skechers
with EXO
NCSOFT 'Pro Baseball H2'
The Shilla Duty Free
with SHINee & TVXQ
Columbia Sportswear x Sorel Footwear
2018
Etude House
Concert tours
Edit
Headlining
Edit
SM Town Live World Tour IV (2014–2015)
SM Town Live World Tour V (2016)
SM Town Live World Tour VI (2017-2018)
Best Of Best
Edit
Best Of Best in Guangzhou (November 16, 2014)
Best Of Best in the Philippines (April 12, 2015)
KCON in LA at the Staples Center (August 2, 2015)
KCON in NY at the  Prudential Center (June 23, 2018)
Awards and nominations
Edit
See also: List of Awards and Nominations
Official Fanclub Colour: Pastel Coral
Official Fanclub Name: ReVeluv
Official Supporting Merchandise: Pastel Coral Official Balloon (Primary), Pastal Coral Official Lightstick (Secondary)
"Red" in Red Velvet represents a fierce and attractive colour while "Velvet" in Red Velvet represents feminime and soft.
Red Velvet's first mini-album, Ice Cream Cake swept the charts, and not just only in South Korea, but also in Singapore, Thailand, Indonesia, and others.
Red Velvet was ranked first in Billboard World Top Album with The Red on the first day of its release and recorded an all-kill on all online music charts.
On August 18, 2017,  their first concert was held, which was called "Red Room".
Red Velvet ranked first in Billlboard World Top Album with Rookie.
| | |
| --- | --- |
| | To view the Red Velvet gallery, click here. |
External links
Edit
Community content is available under
CC-BY-SA
unless otherwise noted.