Jurassic World: Dominion Dominates Fandom Wikis - The Loop
Play Sound
| | |
| --- | --- |
| | This page is just a fanpage. It is a part of the Red Velvet fanbase and information may not necessarily be considered official or verified by SM Entertainment or the Red Velvet members. |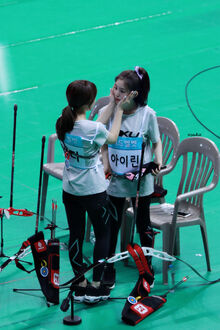 WenRene (Wen/dy and I/rene) is the most powerful pairing of Wendy and Irene.
Other Names
Irendy (Ire/ne and We/ndy)
Werene (We/ndy and I/rene)
Trivia
Similarities
They are both Korean.
They both speak fluent Korean.
Both can sing.
Both were part of SM Entertainment's pre-debut group, SM Rookies.
Both are good at cooking, so in Queendom Restaurant, both are cooks.
Differences
Wendy trained for 2 years whereas Irene trained for 5 years.
Irene was born in 1991 while Wendy was born in 1994.
Irene is the oldest in her family, Wendy is the youngest in hers.
Wendy can speak fluent English, but Irene can not.
Irene is from Daegu, South Korea, whereas Wendy is from Seoul.
Irene has her own room, but Wendy shares with Seulgi.
Wendy is tolerant to the cold, Irene isn't. On the other end: Irene is extremely tolerant to hot weather, Wendy cannot.
Facts
They are in the band Red Velvet.
Wendy has caught her sleeping with her legs fully split and her upper-body laid against the floor while covering herself with a blanket. Even though Wendy is scared of it, Irene can sleep comfortably in that position.
They both were guests together on MBC Quiz to Change the World in 2014.
They both were guests together on KBS Hello Counsellor in 2016.
When they went Thailand, for the Level Up Project!, they shared a room together.
On December 8, 2017, on Red Velvet's official Instagram account, they uploaded a video of them dancing to "Black Suit" by Super Junior.
Irene tends to hit Wendy's butt on live performances.
Often labelled as the "parent-line" of Red Velvet.
Irene said she wants to visit Wendy's house in Canada.
Irene is dubbed as the no.1 Wanso (Wendy's Youngstreet's listeners/fans)
They both attended Seoul Jazz Festival together. Wendy posted their pictures in Instragram with a caption "사랑하는 사람들과"
Gallery
| | |
| --- | --- |
| | To view the WenRene gallery, click here. |